banner1
D6 Family Conference 2022
The goal of the D6 movement is to pass on a spiritual legacy for future generations.

We meet to understand how we can best apply the principles of Deuteronomy 6 in our ministries… in our context… in our homes.
Hear, O Israel: The Lord our God, the Lord is one. You shall love the Lord your God with all your heart and with all your soul and with all your might. And these words that I command you today shall be on your heart. You shall teach them diligently to your children, and shall talk of them when you sit in your house, and when you walk by the way, and when you lie down, and when you rise. – Deuteronomy 6:4-7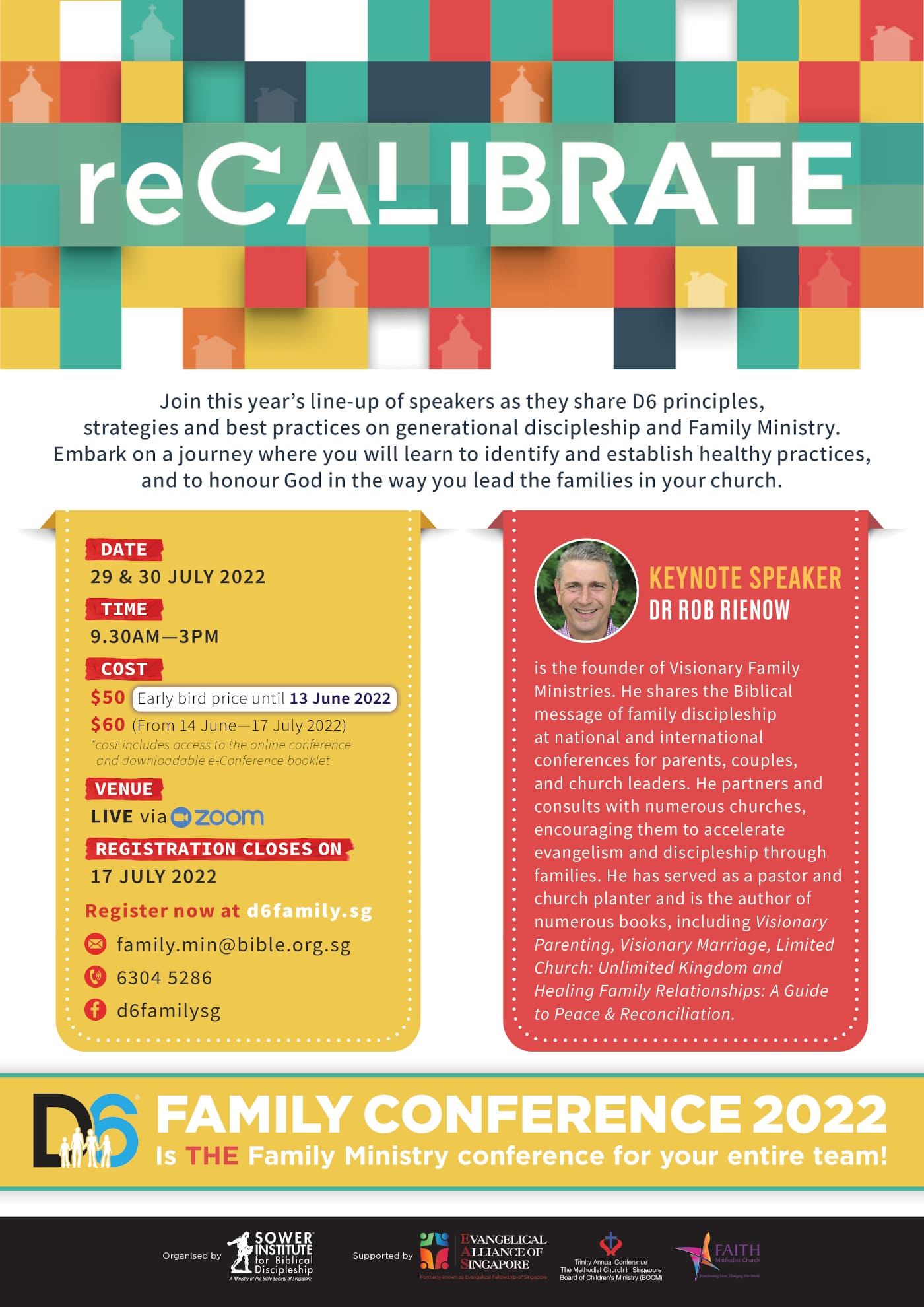 D6 Family Conference 2022
Tim Goodyear
Chief Operating Officer HomePointe Inc.
Tim loves to help leaders explore and implement strategies to Drive Faith Home and has had the opportunity to partner with over 600 churches of every size and tradition across the country. After 18 years in the corporate world, Tim earned a ThM from Dallas seminary and served in pastoral roles at Lake Pointe Church and Mountain Park Community Church. He currently serves as the COO of HomePointe and as Discipleship Pastor of Valley View Bible Church in Paradise Valley, AZ. Tim and Laura have two teenage sons.
Bishop Emeritus Robert Solomon served as Bishop of The Methodist Church in Singapore from 2000-2012. He had served previously as a medical doctor, church pastor, principal of Trinity Theological College and president of the National Council of Churches of Singapore. Dr Solomon has degrees in medicine, theology, intercultural studies, and a PhD in pastoral theology from the University of Edinburgh. He has contributed many articles to books, theological dictionaries and journals, and authored more than 40 books, including Raising the Next Generation. He now has an active itinerant ministry of preaching and teaching in Singapore and abroad.
Jeremy Seaward is the Senior Overseer of Victory Family Centre, Singapore. He and his wife, Charissa, pastor a multi-national and multi-generational congregation, equipping and releasing leaders and church planters to serve their generation and the nations of the world. He is a dynamic communicator, a mentor to young pastors, and a prophetic voice to this generation with a desire to see people fulfill their purpose and win their generation.
Jose Philip was born in Kerala and grew up in Chennai, India.
He became a Christian at fourteen years old, but it was only much later that he discovered nothing satisfied him more than "teaching and preaching the Word". In 2005, he resigned from his company in Dubai and headed to Singapore Bible College, where he completed both his master of divinity in Biblical studies and his master of theology in May 2008.
Jose is currently serving as an evangelist and apologist with Ravi Zacharias International Ministries (Asia-Pacific). He also lectures on apologetics, Christian ethics, and gospel and culture at Singapore Bible College, Baptist Theological Seminary, and Bible College Malaysia. Jose is married to Cinu who is a special educator by training, and they are blessed with two children, Jayden and Yaira. They are currently based in Singapore.
Dr Daniel Fung is married to his wife, Joyce, and they have five children. He has been the Chairman Medical Board of Singapore's Institute of Mental Health since 2011 and is an Adjunct Associate Professor at all three medical schools in Singapore. Dr Fung is also the President of the International Association for Child and Adolescent Psychiatry and Allied Professions. He was awarded the National Day (Public Service Administration (Bronze)) Award in 2017 and the National Medical Excellence Award (Team) in 2018 for his work in community and school-based mental health. He is interested in the development of child mental health services and strategies and the treatment of emotional and behavioural disorders in children.
Dr Andrew Goh is editor of IMPACT magazine for many years and a founding elder of Riverlife Church. Among other voluntary responsibilities, he chaired the Singapore Advisory Council of World Vision International and the Board of Halogen Young Leaders Foundation. He earned his PhD from the Nanyang Technological University (NTU) in 2000.
Crystal worships and serves in one of the Life Groups for Women under Every Nation Church Singapore.
She was divorced and through God's grace has now reconciled and reunited with her husband.
She is passionate about sharing how God healed her heart and imparted His wisdom in raising her children. She strongly believes that love heals all pains and bitterness.
Together with her husband, they believe in sharing their testimonies to help women and men build stronger and lasting relationships through forgiveness, unconditional love and stronger connection.
Dr. Christopher Yuan has taught the Bible at Moody Bible Institute for over ten years and his speaking ministry on faith and sexuality has reached five continents. He speaks at conferences, on college campuses, and in churches. He has co-authored with his mother their memoir, Out of a Far Country: A Gay Son's Journey to God, A Broken Mother's Search for Hope (100,000 copies sold and now in seven languages). He is also the author of Giving a Voice to the Voiceless. Christopher graduated from Moody Bible Institute in 2005, Wheaton College Graduate School in 2007 with a Master of Arts in Biblical Exegesis and received his doctorate of ministry in 2014 from Bethel Seminary. Dr. Yuan's newest book is Holy Sexuality and the Gospel: Sex, Desire, and Relationships Shaped by God's Grand Story.
Jim Wideman is considered as an innovator, a pioneer and one of the fathers of the family ministry movement. He is a speaker, author, and leadership coach with over 40 years of hands on experience in the local church. Jim currently serves as Family Pastor at The Belonging Company in Nashville, Tennessee (one of the fastest growing churches in America). Jim and his amazing wife Julie, have two grown daughters, and two of the cutest grandsons ever born!
Jim Wideman has the unique ability to help build the local church by strengthening the family, empowering leaders, and releasing today's children to be the church. He is a pastor, speaker, author, and ministry coach with more than 40 years of experience serving in all areas of the local church, including 17 years leading one of the largest children's ministries in the United States. Jim has trained thousands of children's ministry leaders in the US and around the world. He has worked with six different thriving churches in the span of four and a half decades and published over 15 books.

Individual
$40
Registration from 30 July 2021 to 31 July 2021
Most Popular
Individual
$50
Registration from 1 August 2021 to 13 June 2022
Individual
$60
Registration from 14 June 2022 to 17 July 2022
D6 Family 2020 Devotional Study Guides
(For All Ages)
D6 Family 2019 Video Resources
Our Daily Bread Resources 
Resources on Marriage and Parenting
A website with many Online articles and reading on Parenting (click here to view)
A website with many Parenting and Children Resources  (click here to view)
A 30 days Our Daily Bread devotionals on Refreshing your Marriage 
(click here to view)
What is the Promise of Marriage? (click here to view)
How can a parent find peace of Mind? (click here to view)
Help! I'm Stressed about My Child's Education  (click here to view)
Help! My Child Wants More Screen Time  (click here to view)
Help! How Do I Talk to My Child About Love, Sex, and Marriage  (click here to view) 
My Study Buddy (click here to view)
Give Us This Day Volume 2 booklet (click here to view volume 2)
Just Teddy: Learning from Psalm 139 (click here to view)
A Sheepy Adventure: Learning from Psalm 23 (click here to view)
New registrations will be suspended till further notice, due to the current COVID-19 measures.
Kindly contact family.min@bible.org.sg if you have any enquiries.
Conference fee includes 2-day admission, conference booklet and pack, and all meals and tea breaks.
D6 "Frequently Asked Questions"